Day:
July 17, 2015
The Sentinel-1 Scientific Data Hub provides free and open access to a Rolling Archive of Sentinel-1 Level-0 and Level-1 user products.The S-1 Scientific data Hub Rolling Archive maintains the latest 2 months of products for download via HTTP. Anyone can register online via self-registration. The self-registration process is automatic and immediate. Registration grants access rights for searching and downloading Sentinel-1 products. Sentinel-1 products are available at no cost for anybody. The data available through the Data Hub is governed by the Terms and Conditions of the use and distribution of Sentinel data, which the User is deemed to have accepted by using the Sentinel data.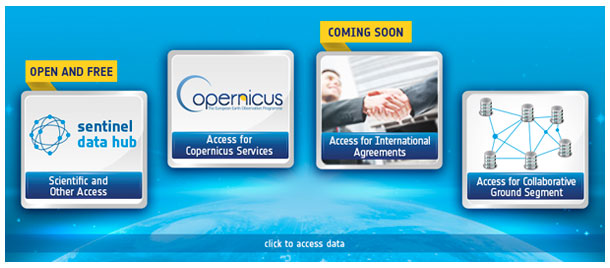 Services provided by the portal
Full-text Search and Saved Search Queries
Search query on the products stored on the rolling archive and filtering of results via a full-text search bar. Predefined search filters for the different acquisition modes, product types, product levels and geographical areas. "Make your own" search via specific semantics (boolean operators and wildcards). Text search query can be saved and used for activating the e-mail notification service and for batch scripting.
Products Online Inspection
Online inspection of the searched products by browsing and pre-viewing the product metadata and measurements without downloading it. A preview panel displays information on the product contents and structure.
Products Download and quota
Sentinel-1 products are provided for download via HTTP in the .ZIP archive file format. Compression is not applied. Click and download, shopping cart, batch download. A maximum of 2 concurrent downloads per user is allowed in order to ensure a download capacity for all users.
Batch scripting
The Data Hub exposes the Open Data Protocol ( OData) interface for accessing the EO data stored on the rolling archive. This protocol is based on top of the well-supported HTTPS/ REST transfer protocol that can be handled by a large set of client tools as simple as common Web browsers, download-managers or computer programs such as cURL or wget. The Odata protocol provides easy access to the Data Hub and can be used for building URI for performing search queries and product downloads offering to the users the capability to remotely run scripts in batch mode.
Click below links for more information
Copernicus Space Component Data Access system (CSCDA)
The ArcGIS Book was written for a diverse audience, including GIS professionals just venturing into the new world of web GIS as well as web technologists, information workers, web designers, and others who increasingly recognize how maps play a pivotal role today in clearly communicating information. The book also serves as a perfect introduction to web GIS for managers and executives interested in understanding how maps can help them make sound business decisions for their organizations.
Explore ten "big ideas" that encapsulate the technological and social trends that have pushed geographic information systems (GIS) onto the Internet in a significant way. See how to apply these ideas to your own world. Open your eyes to what is now possible with Web GIS, and put the technology and deep data resources in your hands via the Quickstarts and Learn ArcGIS lessons that are included in each chapter.
This book helps you understand and use Web GIS, a powerful mapping technology that is transforming the way we apply and share geographic information. Each "big idea" is part of the ArcGIS platform and it's big because it empowers you, enabling you to do new things and to accomplish familiar tasks more quickly and with ease.
This is a hands-on book that you work with as much as read. By the end, usingLearn ArcGIS lessons, you'll be able to say you made a story map, conducted geographic analysis, edited geographic data, worked in a 3D web scene, built a 3D model of Venice, and more.
Trimble's Geospatial Division has become a sponsor of the LASzip compressor. Their contribution as a Bronze sponsor will improve the existing "LAS 1.4 compatibility mode" of LASzip whose creation and maintenance is already being supported by Gold sponsor NOAA and Bronze sponsor Quantum Spatial. The original Gold sponsor of the open source LASzip compressor was USACE – the US Army Corps of Engineers (see http://laszip.org).
The "LAS 1.4 compatibility mode" was created to provide immediate support for compressing the new LAS 1.4 point types by rewriting them as old point types and storing their new fields as "Extra Bytes". As an added benefit this allows older software (without LAS 1.4 support) to access the newpoint types of LAS 1.4 files that would otherwise be unreadable. All important fields of the new point types 6 to 10 (i.e. those fields that matter to older software) are mapped to the corresponding fields of the older known point types 1, 3, or 5.
About Trimble's Geospatial Division:
Trimble's Geospatial Division provides solutions that facilitate high-quality, productive workflows and information exchange, driving value for a global and diverse customer base of surveyors, engineering and GIS service companies, governments, utilities and transportation authorities. Trimble's innovative technologies include integrated sensors, field applications, real-time communications and office software for processing, modelling and data analytics. Using Trimble solutions, organizations can capture the most accurate spatial data and transform it into intelligence to deliver increased productivity and improved decision-making. Whether enabling more efficient use of natural resources or enhancing the performance and lifecycle of civil infrastructure, timely and reliable geospatial information is at the core of Trimble's solutions to transform the way work is done. Visit http://trimble.com/Industries/Geospatial/ for more information.