NASA ARSET program aims at increasing the utility of NASA earth science and model data for policy makers, regulatory agencies, and other applied science professionals in the areas of health and air quality, water resources, eco-forecasting, and disaster management.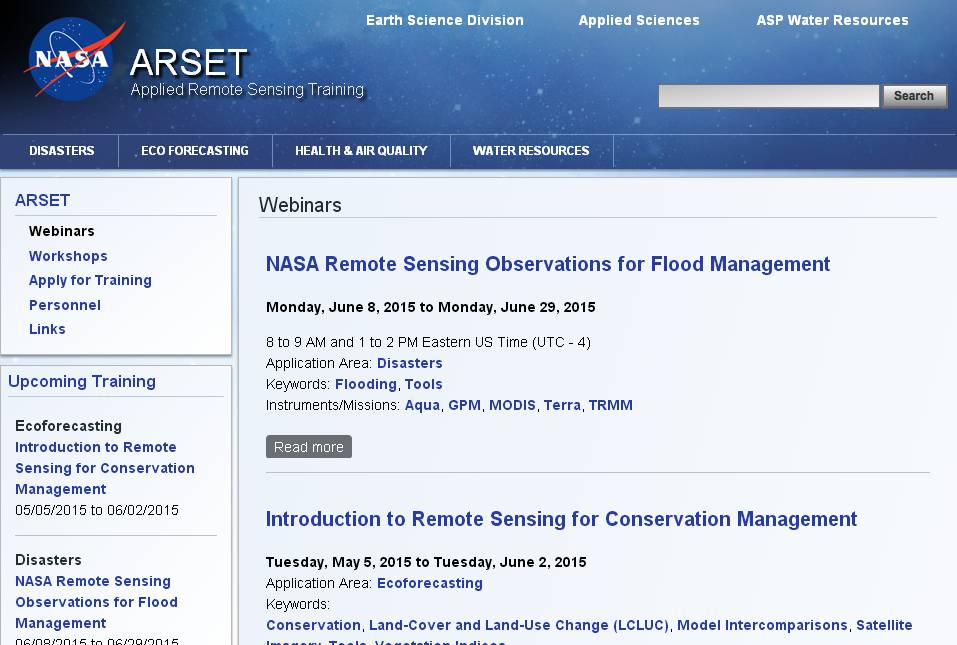 The two primary activities of this project are webinars and in-person workshops.
Webinars (Free)
Webinars are offered throughout the year in all four application areas, generally 4-5 weeks in duration, 1 hour per week. They are primarily intended for those new to remote sensing. For more information and to register please go to the webinars section of the website.
Workshops
ARSET in-person trainings (workshops) are a combination of lectures and computer hands-on activities that teach professionals how to access, interpret, and apply NASA data at regional and global scales with an emphasis on case studies.
Skills Taught:
Search, access, and download of NASA data products and imagery
Appropriate use and interpretation of satellite imagery.
Visualization and analysis of NASA imagery using NASA, EPA, and NOAA webtools and other resources such as GIS, Google Earth, Panoply, and HDFLook
ARSET is sponsored by the Applied Sciences Program within NASA's Earth Sciences Division.  We would like to thank Nancy Searby, Applied Sciences' Capacity Builiding Program Manager for her support of this project.