Month:
May 2016
There are various software available (commercial as well as open source/freeware) for processing Geospatial data. Here is the alphabetical list of open source software related to Geoscience and Remote Sensing.
ANN
Approximate Nearest Neighbors (ANN) is a library written in the C++ programming language to support both exact and approximate nearest neighbor searching in spaces of various dimensions.
ASF MapReady
The MapReady Remote Sensing Tool Kit accepts level 1 detected SAR data, single look complex SAR data, and optical data from ASF and some other facilities. It can terrain correct, geocode, apply polarimetric decompositions to multi-pol SAR data, and save to several common imagery formats including GeoTIFF. Other software included in the package are an image viewer, metadata viewer, a projection coordinate converter, and a variety of command line tools.
ASF SAR Training Processor
The SAR Training Processor (STP) is a graphical tool written to assist in learning and teaching the flow of SAR processing.
BEAM
BEAM is a toolbox for viewing, analyzing and processing of remote sensing data.
Matlab Collection by Beril Sirmacek
This collection includes matlab codes for active shape growing 2D box fit, intensity value based box fit, shadow detection, and color invariant features for Object (Road) Detection.
CIMES
A package of programs for the determination of canopy geometry and solar radiation regimes through hemispherical photographs.
CLASlite
Monitoring tropical deforestation and forest degradation with satellites can be an everyday activity for non-experts who support environmental conservation, forest management, and resource policy development. Through extensive observation of user needs, we developed CLASlite to assist governments, nongovernmental organizations, and academic institutions with high-resolution mapping and monitoring of forests with satellite imagery.
Climate Resilience Toolkit
Tools are available to help you manage your climate-related risks and opportunities, and to help guide you in building resilience to extreme events.
CloudCompare
3D point cloud and mesh processing software.
and many more. Please download the complete list from here
The state's planning department has issued a notification on April 28 announcing the plan to develop MGDDS and appointment of Maharashtra Remote Sensing Application Centre (MRSAC) . Also, the government made mandatory for all departments and corporations to obtain satellite images and geographic information only from MRSAC from now onwards. The departments and corporations will have to take prior permission of the planning department for obtaining satellite images and geographic information from other sources in case not getting required and quality information or within time period from MRSAC.
"Satellite technology is very important for making policy decisions at various levels, preparing proposals, execution of projects, monitoring, land survey etc along with effective development of urban and rural areas in the state. Already various types of government works have been done obtaining satellite images and geographic information system from remote sensing centres. The departments are spending double amount on it and also not getting similar type of informations. Therefore, plan is to develop MGDDS. MRSAC is being appointed as nodal agency for developing MGDDS, implement and operation," the notification said.
As per notification, MRSAC will make available MGDDS on the government's website on which each department will have its own access. MRSAC will procure satellite images on behalf of the government, work on it as per requirement of departments and provide through MGDDS. The estimated project cost is around Rs300 crore. MRSAC is preparing detailed project report and will submit it to the government followed by execution of the project.
MRSAC will also give technical assistance to all departments for collecting geographic information in standard data format/template. Departments will have to pay MRSAC as per norms for satellite images and other types of works.
Spationet community welcomes the decision taken by Maharashtra Government.
NASA ARSET program aims at increasing the utility of NASA earth science and model data for policy makers, regulatory agencies, and other applied science professionals in the areas of health and air quality, water resources, eco-forecasting, and disaster management.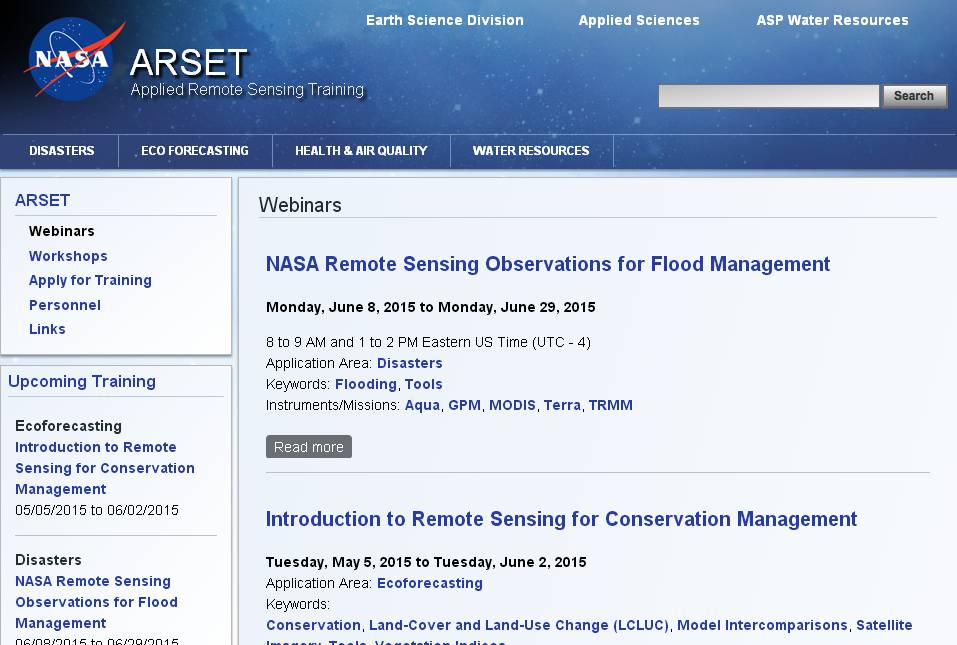 The two primary activities of this project are webinars and in-person workshops.
Webinars (Free)
Webinars are offered throughout the year in all four application areas, generally 4-5 weeks in duration, 1 hour per week. They are primarily intended for those new to remote sensing. For more information and to register please go to the webinars section of the website.
Workshops
ARSET in-person trainings (workshops) are a combination of lectures and computer hands-on activities that teach professionals how to access, interpret, and apply NASA data at regional and global scales with an emphasis on case studies.
Skills Taught:
Search, access, and download of NASA data products and imagery
Appropriate use and interpretation of satellite imagery.
Visualization and analysis of NASA imagery using NASA, EPA, and NOAA webtools and other resources such as GIS, Google Earth, Panoply, and HDFLook
ARSET is sponsored by the Applied Sciences Program within NASA's Earth Sciences Division.  We would like to thank Nancy Searby, Applied Sciences' Capacity Builiding Program Manager for her support of this project.