Latest Event Updates
After a couple of years of deliberation and ending a long period of ambiguity and confusion, the Director General of Civil Aviation (DGCA) has finally announced its policy for remotely piloted aircraft or drones. Set to come into effect from December 1, 2018, the new policy defines what will be classified as remotely piloted aircraft, how they can be flown and the restrictions they will have to operate under. Here is a look at the policy in detail.
What are drones?
The DGCA has defined remotely piloted aircraft (RPA) as an unmanned aircraft piloted from a remote pilot station. "The remotely piloted aircraft, its associated remote pilot station(s), command and control links and any other components form a Remotely Piloted Aircraft System (RPAS)," the policy states. Also, as per the civil aviation requirements – issued under the provisions of Rule 15A and Rule 133A of the Aircraft Rules, 1937 – these RPAs will need a Unique Identification Number (UIN), Unmanned Aircraft Operator Permit (UAOP) and need to adhere to other operational requirements.
There are two key restrictions that have been put in place for the safe use of drones. The drones will be allowed to fly only along visual line-of-sight and only during day-time with a maximum altitude of 400 feet. The rules announced August 27, 2018, are called Drone Regulations 1.0.
Safety regulator DGCA has put drones into 5 categories based on their weight, namely nano, micro, small, medium and large:
Nano: Less than or equal to 250 grams.
Micro: From 250 grams to 2kg.
Small: From 2kg to 25kg.
Medium: From 25kg to 150kg.
Large: Greater than 150kg.
All drones, other than in the nano category, shall apply to DGCA for import clearance and based on that Directorate General of Foreign Trade shall issue a license for import of RPAS.
What is Unmanned Aircraft Operator Permit (UAOP)?
Operators of civil drones will need to get a permit from the DGCA. There are exceptions for:
Nano RPA operating below 50 feet (15 m) in uncontrolled airspace / enclosed premises.
Micro RPA operating below 200 feet (60 m) in uncontrolled airspace / enclosed premises – but will need to inform local police 24 hours prior.
RPA owned and operated by NTRO, ARC and Central Intelligence Agencies but after intimating local police.
The DGCA has to issue the UAOP within seven working days provided all the documents are complete. This UAOP shall be valid for five years and not transferable. The policy also stipulates that RPAs shall be flown only by someone over 18 years of age, having passed 10th exam in English, and undergone ground/ practical training as approved by DGCA.
How can drones be operated in India?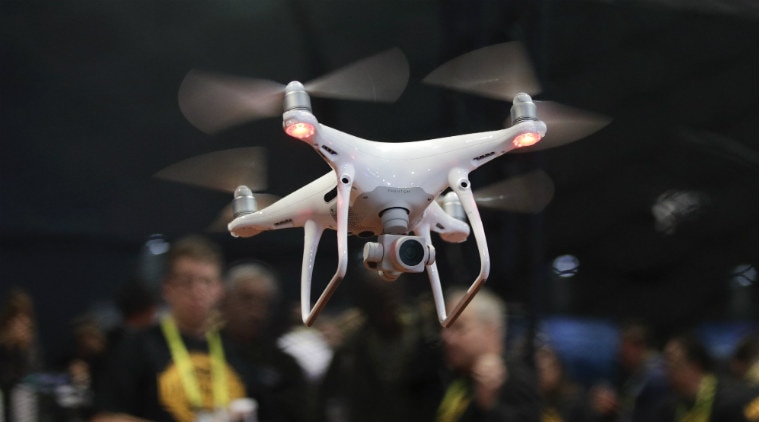 (The basic operating procedure will restrict drone flights to the daytime only and that too within "Visual Line of Sight (VLOS)".  (Image Source: Bloomberg))
The basic operating procedure will restrict drone flights to the daytime only and that too within "Visual Line of Sight (VLOS)". This applies to all categories. Also, along with other SOPs, the DGCA has clarified that no remote pilot can operate more than one RPA at any time. Plus, manned aircraft will also get priority. There can't be any human or animal payloads, or anything hazardous. It cannot in any manner cause danger to people or property. An insurance will be mandatory to cover the third-party damage.
What are the restrictions in place for drones in India?
RPAs cannot be flown within 5km of the perimeters of the airports in Mumbai, Delhi, Chennai, Kolkata, Bengaluru and Hyderabad and within 3km from the perimeter of any other airport.

It cannot fly within "permanent or temporary Prohibited, Restricted and Danger Areas" and within 25km from international border which includes the Line of Control (LoC), Line of Actual Control (LAC) and Actual Ground Position Line (AGPL).
It cannot fly beyond 500 m into the sea from the coastline and within 3 km from the perimeter of military installations.
It also cannot fly within a 5 km radius of the Vijay Chowk in Delhi, within 2 km from the perimeter of strategic locations/ vital installations notified by Ministry of Home Affairs and within 3 km from the radius of State Secretariat Complexes.
It also cannot be operated from a mobile platform such as a moving vehicle, ship or aircraft.
Eco-sensitive zones around National Parks and Wildlife Sanctuaries are off-limits without prior permission.
Violations will be acted on under relevant sections of the IPC and the Aircraft Act 1934.